Banner photo courtesy of Jamie-James Medina
Unattributed quotes and photographs courtesy of F*ck, That's Delicious
---
Born Ariyan Arslani, Action Bronson has carved a lane for his presence within the hip-hop landscape in a way that no one before him had.
Sure to keep aesthetic fresh with each drop, he manages to maintain a familiar thread to weave his personality and eccentric rhymes together. It's not about the sales or streams, it's about having fun.
Above the music, however, is Bronson's deep-seated, genuine passion and appreciation for the culinary arts, impromptu method acting, old school BMWs, painting, tattoos, graffiti, making sure Flushing, Queens is in the building at all times, and most importantly—life itself.
The Come Up
After securing his GED and floating through culinary school, Bronson turned to his father's Mediterranean restaurant in Forest Hills, Queens for his first real gig.
Having grown up around his grandmother's baking and a professional kitchen, he was at ease, which acted more as a double-edged sword than a blessing. Overconfidence led to slips in focus, and tension grew over a number of years. Music provided a conduit for expression and release of frustration.
Meanwhile, his longtime friend Meyhem Lauren, founding member of Queens' Smart Crew, planted the idea that maybe this rap thing could actually work out—something more than just a hobby. Having been in touch with East New York radio station extraordinaire PF Cuttin' for several years at this point, it was only natural for Bronson to give it a shot.
The young and sleek Bronson would show up at The Laboratory, the studio where PF Cuttin' makes his magic happen. He would recruit his friend Joel Rodriguez (Superbad Solace) for direction assistance, a fellow Queens native and advertising specialist who had the plug when it came to putting upcoming emcees on.
He would make his radio debut on PF Cuttin's radio show, Industry Shakedown, as "Action Bronson" on June 9, 2009, dropping food-laced bars over AZ's The Come Up, produced by Primo.
A black and white video of Bronson spitting into a mic would be the inception of his solo hip-hop career. Posted originally on YouTube, the video made its rounds on social media, accruing 30,000 views in no time on MySpace. From there, it found its way to Kevin Hofman of OnSMASH, and the video would propagate further.
This came as a surprise to Bronson, having distanced himself from tech until he swung back around to creating music:
I didn't even know you could put music on the Internet besides Napster or LimeWire. I hadn't had the Internet in ten years, not since AOL dial-up.
We're Out Here
Eventually, things came to a point, and it was time for change from the family restaurant. After pivoting to head commissary chef of the New York Mets at Citi Field, he came into his own and found footing.
However, a lapse in judgement—getting into a confrontation with a fellow chef, and throwing him over a desk—resulted in an immediate firing. Perhaps a sign more than a setback, in retrospect.  He found himself back at his old man's joint:
So I go back to my father's spot for a minute, and I break my leg within a week of being back full time.

January 31, 2011. It changed my life, right there.
By the beginning of 2011, it had been two years since his radio debut on Industry Shakedown, and Bronson started to seriously entertain the idea of going all-in on hip-hop. He was becoming recognized locally, and needed to reach a wider audience, despite accumulating several million views on YouTube with the videos for Imported Goods as well as SHIRAZ.
He'd been dabbling with the pen for half a decade at this point, unbeknownst to many. His leg break came exactly 4 weeks after releasing his debut mixtape, Bon Appetit ..... Bitch!!!!!, which consisted of 35 tracks laced with food, sports, and pop culture nods.
Even back in 2007, Bronson was a member of The Outdoorsmen, a group Meyhem joined in 2004 at the age of 15. The group would go on to have their projects co-signed and hosted by revered Queens DJ, J-Love, who also hosted his mixtape.
None of it would have been possible without his mother, Gloria:
She would always support me with whatever she had. Always.

She wasn't making lots of money either, but she'd give me enough money to go to the studio for two hours, to put my songs and my mixtapes out myself before I got signed to a label.

My mother started my shit off.
As a follow-up to his debut mixtape, he would go on to drop a lesser-known project, The Program, a 35-minute collaboration with local Queens DJ, Don Producci. Although it had some hype locally, nothing really ever came of this project.
By summer of 2011, Action Bronson was no longer just a chef. He was a chef-turned-rapper. He needed to keep himself creatively fresh to avoid being a flash in the pan, however. With no critical reception of The Program (despite having some of his most wicked cuisine-related rhymes), he needed to shift gears and focus up.
He had one shot, and he knew it more than anyone.
Now or Never
This is the point in Bronson's career where both he and the fans noticed movement. It was  January of 2011 and I was posting on hip-hop forums often, talking about a few artists I saw as having large potential. Often clowned for clinging to two artists I really enjoyed listening to at the time—Action Bronson of Flushing, Queens, and Logic of West Deer Park, Maryland—I was the sole poster determined to put people onto them.
The memes we're all accustomed to seeing about Logic didn't exist yet; this was a year or so before Young Sinatra: Welcome to Forever dropped. Most of the hate at the time came in the form of ragging his cookie-cutter type dusty flow, and heavy reliance on boom bap beats.
Not too far north of the DMV in Queens, Bronson took more flame online, with many online hip-hop connoisseurs outside of New York saying he was just another white rapper or a fat white chef from Queens, pushing away the idea of ever listening to him. On first listen, he sounded strikingly similar to Ghostface Killah, except he came more heavy with the culinary influence and obscure sports references. This made people turn their head and ask: "Who's that?"
Tony Starks himself has even been confused about the similarity:
I'm asking myself, when the fuck I do that verse?
For Bronson early on, it seems his work was focused more on flowing smooth over carefully-catered beats while painting vivid mental pictures via absurdist bars than trying to tell a clear-cut story. It may sound like a knock, but this was the very foundation that established his unique persona within the hip-hop space.
After securing small gigs and features for a few months, it was now springtime 2011, and the idea of becoming a full-time hip-hop artist was becoming more of a reality and less of a pipe dream. As the bones continued to stack from live shows and sporadic features by request, the need to create a roadmap for success was looming.
On the third Tuesday of March, Dr. Lecter would drop. A record made over the course of a few months, on and off, containing breakbeat samples fully-produced by revered New York producer Tommy Mas, who Bronson still works with to this day.
Securing features from his childhood friend Meyhem Lauren, along with several others from the Queens hip-hop rolodex at the time—Shaz Ill York, Maffew Ragazino, AG Da Coroner, and Fonda & Machine—Bronson was well aware that if this didn't hit, he'd more than likely need to look at a different path in life.
Perhaps, cooking videos:
Before I broke my leg, before I was really rapping, I'd already made some cooking videos. Simple stuff. How to cut an onion. The Bronson burger. Spaghetti and shrimp.
You can watch the complete playlist of Action in the Kitchen here:
Luckily, it hit. Hard, in fact, to the point where well-known founder of Showoff Records, Statik Selektah, heard Dr. Lecter and pitched Bronson an entire collab album. He accepted, and within the same year, Well Done was produced, mixed, mastered, and released.
Masterful samples and cuts via Statik's craft honed over two decades act as a chef's kiss, meshing with Bronson's gritty and straightforward voice.
The project itself is very much Bronson's own reflection of self, touching on topics experienced throughout his life, and a brutally honest analysis of his own doings. Vulnerable at times almost to a fault, Love Letter is to this day, one of his most serious and personal songs, Love Letter (my personal favorite song of his, to this day).
The Blue Chips Era
Well Done received favorable reviews, even managing to cop a 7.1 from Pitchfork, igniting more buzz than Dr. Lecter. Jayson Greene, the contributing editor who penned the Pitchfork review, nailed it on the head when he said:
Bronson's biggest strengths are a goofy sense of humor and a refreshing lack of self-regard: At its best, Well-Done is like spending 45 minutes with the affable, roly-poly guy who cracked you up at your high school lunch table.
Perhaps this spark of bright humor and personality was something lacking within hip-hop at the time. Let's paint a picture of what was happening at the end of 2011, shall we?
Drake made an easy #1 debut on the charts with his arguably classic album, Take Care, accumulating a staggering 630,000 first-week sales, a week before Bronson dropped Well Done.
In Pittsburgh, Mac Miller had just released Blue Slide Park three weeks beforehand, while Wiz Khalifa was still flying high off the success of Rolling Papers, getting ready to drop what would turn out to be a terrible straight-to-DVD flick with Snoop Dogg, titled Mac & Devin Go to High School.
Logic had just dropped All I Do and was making the rounds online going viral with his 88.1FM The Hip Hop Corner freestyle, courtesy of DJ Boss Player.
French Montana was making his name known in the South Bronx, eventually getting the attention of Fat Joe, leading to major success with his breakout hit, Shot Caller, which would put him on the radar of major labels
A strange, yet intriguing artist collective named Odd Future led by Tyler, The Creator, would maintain their cult-like following, landing a show titled Loiter Squad on Adult Swim, just months after Tyler had secured a record deal with Sony
Bronson was able to hit a pocket with the mixture of his persona. With a personality that could make anyone grin, he was breathing fresh air into the scene, whether he knew it or not. Co-signs would begin to pile on, and soon enough he would link up with Party Supplies, a producer-songwriter duo consisting of Justin Nealis and Sean Mahon.
The result would be Blue Chips, a breakout mixtape which opens in the truest Action Bronson form of any of his works:
Been on the honor roll, sculptures of my body out in Nagano, my shawty features like Madonna,

I ain't like that one; yo, line for line,

Straight up lambs on the arm, Giambi lenses, Ken Caminiti, Bosworth
Following this up later that summer was the all-too-familiar BiRD ON A WiRE video with friend and camel case extraordinaire, RiFF RaFF.
Blue Chips would go on to earn a very respectable 8.1 from Pitchfork, It would be this tape and a mixture of Bronson's appearances on numerous radio shows across the country that'd put him on the radar of many, including one of the greatest producers living within hip-hop: The Alchemist.
Casting High Alchemy
Immediately after the release of Blue Chips, Alchemist would go straight into the studio with Bronson and heads-down creation of what would be Rare Chandeliers, the upcoming Flushing, Queens rapper's fifth project and second mixtape, later that year in November.
Bronson comments on the meaning behind the project's name:
You know, it's just we're special people, you know? Me and [Alchemist] are very special humans, and we should be treated like a chandelier that's so rare.
Although this project never received rave reviews or large exposure, it cemented the fact that top-level figures within the hip-hop scene were looking at Bronson in a serious light. It was safe to say at this point in time, Action Bronson was no longer a chef from Queens; he would often be dubbed a hip-hop artist instead of a chef, or a chef-turned-rapper.
Gears started to turn faster, and his career was picking up pace. Meyhem Lauren comments on how Bronson "put a whole new battery" in him to continue his career:
One Train
Although his work was recognized by many within hip-hop, it would be his personality more so than his music that would attract large names.
A video surfaced of Action Bronson casually "interrupting" A$AP Rocky at Bamboozle Festival, which led A$AP fans, and hip-hop onlookers in general, to check out who "the homie Action Bronson" was:
Several months later, Bronson would lay down a verse on A$AP Rocky's One Train, the ninth track on Long. Live. ASAP, Rocky's debut studio album, attracting more eyes than any of his previous work. Debuting at #1 on the Billboard 200, it would attract millions of listens, eventually accruing over 2,000,000 sales.
Two months to the day after Rare Chandeliers was released, Action Bronson was now suddenly featured alongside hip-hop's most talked about upcoming artist—Kendrick Lamar—on A$AP Rocky's chart-topping debut studio album.
This was enough fuel to get Bronson back in the studio without delay, securing his next chess move. He needed to capitalize on this—fast—and he would do so in a big way.
SAAAB STORIES and Criticism
I remember reaching out to Rory Ahearn, Bronson's right-hand man for a while at Vice and product management specialist, for an interview with Bronson back in late '12 leading into '13. It never came together, but he left me with a gift.
Rory forwarded me an early copy of SAAAB Stories and a few extra codes to pass out to friends. It was a collaborative album with Harry Fraud, known at the time for producing Shot Caller.
Confusing and unnecessarily edgy, the cover itself made people second-guess the Flushing, Queens native's intentions and behavior. This came a year after a separate incident. It would also come back around to bite him in the ass a few years later, resulting in him being removed from an appearance and him issuing a public apology.
In retrospect, it was perhaps yet another lapse in judgement on Bronson's end. The only two songs that stood the test of time were The Rockers as it would be used a year later as the intro song to Fuck, That's Delicious, and Strictly 4 My Jeeps which went viral due to the music video.
Overall, it was a lackluster attempt, and a strange listen as a day-one listener. Far removed from his normal sound, or level of ability fans had become accustomed to. The last track on the album features two undeniable greats, the late Prodigy of Mobb Deep, and Wu-Tang's own chef himself, Raekwon. Still, it fell short of expectations.
It was back to the drawing board, and if he wasn't able to redeem himself both sonically and in the eyes of the hip-hop fans at large, he was going to fade out faster than he faded in, whether he cared or not.
Fortunately, over time, we would see growth and maturation of both his character  and the way he carried his personality.
The Redemption Arc: Blue Chips 2
Coming off a rougher-than-anticipated release in June, it was now nearing the end of 2013. Following SAAAB Stories, Bronson took a breather and focused on honing his craft. He needed to step back and calculate his movements better to avoid becoming just another name in the annals of hip-hop.
He hit up Party Supplies to collaborate once again on the highly-anticipated sequel to Blue Chips. Perhaps one-upping any of his prior work, Blue Chips 2 would widely be considered Action Bronson's best release thus far. Depending on who you ask, still to this day.
Hailed across the internet as a very solid project with smooth samples and lyrics fans had come to expect. Bam Bam was back like he never left.
It was 9-24-13, the continuation of 9-24-11* from Blue Chips that acted as a highlight. 9-24-11 was special in its own right; somehow managing to flip a 55-year-old Dean Martin song into an incredibly slick and elegant sample that sounded like a soundtrack to the grittiest pasta joint in New York was a feat in and of itself.
Then, following it up with a classic Dionne Warwick sample on 9-24-13 which did it justice; a feat in and of itself.
To then pen rhymes—twice—that floated over it like an airy cloud across silk bed sheets, was something that left listeners in awe.
*Note the artwork on Bronson's official channel is incorrect for 9-24-11; it is a song from Blue Chips, not Blue Chips 2.
It was the singular project which made people turn their necks and look at this larger-than-life persona known as Action Bronson in a different way. He wasn't just the "fat funny guy" anymore. He was legitimate, even if the vibes were "weeded-out" and raw. This was the Bronson people were wanting, and missed.
Listeners, both fans and critics alike, had always subconsciously had the following in the back of their minds:
How much of this guy's character was based around stringing food bars, obscure sports references, and 90's actors' names into a single song? Doesn't it get old?
This project was different. Impressive wordplay, flow, and improved delivery mixed with incredible cultural references and many homages to New York City itself made people's eyes wide, and it made them wonder, instead:
How far can this guy actually go in the rap game, and how does he keep refining himself at his own game? What level can he take it to?
This project would also contain Twin Peugots, one of the first times he would collaborate with the late Mac Miller, before his famed Red Dot Music feature on Mac's second studio album, Watching Movies with the Sound Off.
Mr. Baklava, as some call Bronson, was on fire at this point. The industry loved him, and he knew it. He had achieved respectable success within hip-hop at this point, but there was a missing ingredient.
It was time to find a way to blend rhymes and food. He knew that it was necessary, but what he didn't know is how successful he would soon become.
Action Bronson was on the verge of undeniably cementing his legacy as both a chef and a hip-hop artist. A co-sign from Drake never hurts, either:
Fuck, That's Delicious
It would be this food show, originally shown on Vice and then later on Viceland, that would propel Action Bronson's fame more than any of his music ever had up to that point.
With a reach of tens of millions across the globe, Vice would pick up the idea of Bronson and friends traveling the globe eating various foods, with his personality weaved into the structure.
Unbeknownst to many, however, was the fact that he had already been doing this on his own terms for roughly a year before it ever became Fuck, That's Delicious (FTD). During various stops of the Blue Chips II Tour, Bronson would have a camera on him and crew (courtesy of award-winning videographer Tom Gould, a friend of Bronson's), while they put together this makeshift food-and-culture show.
It was called Adventure Time with Action Bronson and had about a half dozen episodes. Gould, who shot all the episodes, would remain friends with Bronson and go on to work with him on his album from 2018, White Bronco.
A necessary step-up in production value, it would be the first time Bronson would tour internationally, and he would be doing it with Eminem. It was an opportunity for him to create something not necessarily larger than hip-hop, but different. A conduit of his first passion's expression, and one that would latch onto the hearts of many fans.
Bronson speaks on how the show came to be on Vice:
We brought it to Chris Grosso, the executive producer of Munchies at Vice, and he made it a reality.

We actually called it Adventure Time with Action Bronson at first, but then as I was rubbing a bit of fake coke on my mouth in a Chinese restaurant in my video for "The Symbol," I looked up and said, Fuck, that's delicious.

That's where the name of the show came from. It is literally a feeling. There are no other words to describe what you just ate. You just have to curse and be vulgar and violent, you know what I mean?
It was May of 2014 and everything was going right. He was now a large figure within the hip-hop scene and had a significant following. He was queuing up his second studio album, the first to be a major label release, and decided to fall back and dedicate a year to this show.
It would result in a huge payoff: FTD was an instant hit, and it took the hip-hop scene by storm. Suddenly, top chefs all over New York were turning their necks alongside hip-hop fans. It was never done before to this extent, in the form of an actual show.
As people took a step back, they realized this was not just a hip-hop artist from Queens eating food he liked. This was a proven chef, who also happens to rap, making a legitimate food show with some of the top chefs in the world. Batali, Bottura, Boulud, White, the list goes on.
The show existed as an authentic lens into the life of Bronson and crew, showing unfeigned appreciation for each other's company, and the culture which they were visiting.
It was a no-filler food show, without advertisement or an agenda. Something rarely seen since the era of Bourdain and Zimmern.
Fuck, That's Delicious would continue to exist on a sort of ebb-and-flow basis, releasing new seasons in-between albums, and vanishing when it was studio time.
It's Not Me Rappin', It's The Parrot
Heading towards the latter half of 2014, Bronson had to come with the heat. It had been many months since he dropped new music, despite flying high in the sky off his food show becoming an instant hit.
In August, he dropped the first single of his next album, Mr. Wonderful, titled Easy Rider. A film fanatic and savant for references, the video instantly went viral for its genuinely impressive cinematography and high quality production. This was a higher tier of Bronson.
It was a hit. Millions of views, and buzzing across all the outlets. He had to keep it going, he couldn't let this hype die out. It was now early 2015, and Bronson was now a household name within rap. A freestyle on Funkmaster Flex stoked the fire even more:
He followed it up a month later with his most outlandish video yet, which became even more of a hit than Easy Rider had, titled Actin' Crazy.
The cherry on top, in retrospect? A couple of years post-release, this song would find its way onto NBA 2k17's OST, curated by Drake's in-house, Noah "40" Shebib.
He wasn't done yet; he needed to hit the hat trick. He recruited right-hand man and lifelong friend Big Body Bes to star in a video with Chance The Rapper. Everyone knew from the second this video dropped that it was going to be good, but no one knew how big it would become.
To date, it is Action Bronson's most successful music video, accruing over 30 million views. It was Bronson's first ever appearance on the Billboard Hot 100, debuting at #91.
The album was praised all throughout the large hip-hop outlets as a somewhat experimental approach to his otherwise cookie-cutter style raps. Fresh and clean, this was a project that was enjoyed by fans.
Post-release, Bronson got too ahead of himself and doubled-down on some comments which led to a spat with Ghostface. Nonetheless, it generated a classic moment in hip-hop. Bronson later apologized, and that was that.
Kellan Miller wrote a very concise review, with a portion that would speak to Bronson's presence within hip-hop more so than any other review would for Mr. Wonderful:
Unshaved, donned in sweatpants, and with a compelling major label debut to his credit, Action Bronson is appropriately attired as hip-hop's latest star.
The praise was always welcome, but was his personality starting to eclipse his rap career?
Did that even matter?
Balancing Food and Music
Initially, it seemed as though Ariyan Arslani was set to become a chef-turned-rapper, taking on the persona of Action Bronson early on and capitalizing on opportunities along the way. He is often mistaken as one or the other, still to this day.
The truth was, the more he opened up over the years, the more it was evident he was both a chef and and an artist, among other things, such as a painter. To those on the outside, it sounded like a shitpost; how can one guy legitimately be all of these things? For those who truly understood his personality and drive to become elite in any field he touches, they knew it was genuine. His track record supports this.
After an unreal 2015, Bronson stepped back and focused solely on Fuck, That's Delicious and upping his PR presence through other creations. Two seasons officially debuted on Viceland in 2016. He had the food game down, he was on a short hip-hop hiatus, and now it was time to dip his toes in the media game, namely Viceland shows.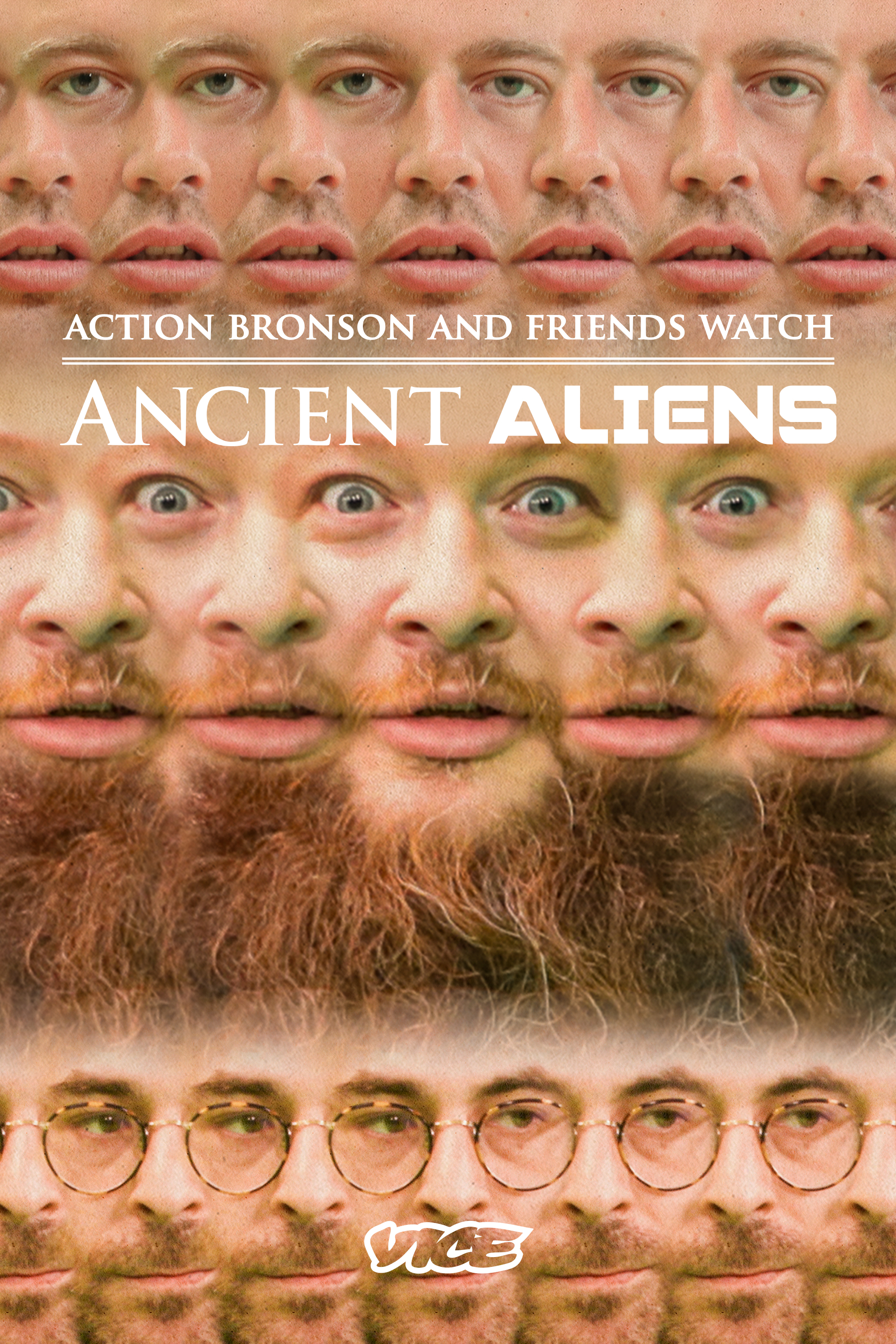 He would debut Traveling the Stars in Q1 of 2016 alongside the second season of FTD. High profile guests on both would further propel the name Action Bronson across airwaves, to the point where it transcended music, and he was making regular appearances on mainstream television shows with audiences who you knew never listened to a single song of his.
Rachael Ray, Wendy Williams, Good Morning America, Late Night with Seth Meyers, on top of just about every relevant show in the rap game. He was no longer just a chef, he was a celebrity chef.
Although the fans wanted music, what Bronson was working towards with FTD was equally important to him. Establishing something that could outlast his rap career was vital. He even touches on this multiple times throughout his discography, making it clear in his Funkmaster Flex freestyle:
I only deal with people that invent shit,

'Cause after rap there ain't no pension
He's right; financial management is a large part of why many hip-hop artists become broke after their career fizzles out. With something like an established television series, the money faucet drips longer.
After a long and busy 2016, it was time to continue working on music, but this time at his own pace. He wanted to spend time with his family, as well, and continue to create content for his food shows.
Blue Chips 7,000 and Securing the Bag
In the eyes of the fans, both 2016 and 2017 perhaps felt like two years that Bronson disappeared to focus on his own personal priorities. No longer was he constantly in the spotlight or going between radio shows attempting to plug content. He had achieved a level of success where that wasn't always necessary.
Within 2017, he continued working on music, but his energy was different. He seemed more focused and calculated than ever before.
And when I die? Make sure you spread my blood on a BMW.
Perhaps Yung Torso outclassed Bronson on his own song with a single bar; unreal.
Blue Chips 7000, the final project in the Blue Chips trilogy, released in August to favorable reviews all around, to high praise as well. Unwritten gatekeeper of many people's music opinions, Pitchfork, lobbed him his highest rating since Blue Chips. Industry-wide recognition of his glo was obvious, even in reviews:
Now, Bronson has become a caricature of his former self. He's a walking TV show—he has had two on the Viceland network—and all of the lights and cameras have overfed his exuberance.
He was now living his raps, his personality unabashedly larger than his rap persona or career, and the secret key to his brand overall. The best part about it, was that it came without a mask; it was just Bronson being himself.
Following the goodbye to the Blue Chips trilogy, the big man from Queens had one more trick up his sleeve: a third food-based show, set to debut on Viceland.
The starpower of guests which would end up starring on this show would rival any food show in existence, even his own.
Action Bronson was now larger than hip-hop, no questions asked.
The Untitled Action Bronson Show
With a list of guests which included some of the largest names in music, food, and entertainment, Bronson and his satirically-named show were set to become one of the flagships of Viceland.
Launching in October 2017, it would exist more as a late-night talk show while cooking, opposed to his previous ventures which were more so cooking shows while talking. It was a fever dream with Chef BamBamBaklava (as he calls himself)  acting as the ringleader of the circus.
Nothing existed like this in television, let alone the niche of cooking shows. Perhaps the only thing in recent memory that could rival the tier of controlled chaos would be Adult Swim in its prime.
Randomness was calculated in an intelligent way to be entertaining and funny; a curated shitpost of sorts striking a delicate balance which Bronson somehow was able to hit and maintain throughout. It was obvious he had natural ability to do this sort of stuff, and he was meant for it.
2017 quickly turned into 2018, and he was slowly in the studio creating his next masterpiece, White Bronco, while also focusing on painting. The Alchemist was having flavor breakthrough after flavor breakthrough while filming new episodes of FTD, and everything was hitting the perfect notes. Things were finally on cruise control in a way, except for negotiations.
The worth of his brand, identity, and persona were very real business questions that were coming into consideration, however, on Vice's side of the table. It was now the second half of 2018. Things came to a head, and while we never may know what exactly transpired behind the curtains, it was clear that Bam Bam wasn't happy with things:
This caused a fissure, and the show we all loved to watch was suddenly in hiatus, with its future being questioned. He appeared on HOT 97 to set the record straight:
He was sitting on a legitimately large chunk of food television any way you cut it, albeit all under the Viceland name. He knew it, the fans knew it, and more than anyone, the fat cats at Vice knew it.
In a resurgence of the show in December 2019, fans would see international pop superstar Dua Lipa appear with Bronson to cook traditional Albanian dishes; his most-viewed food-related video ever, in a matter of a few hours. Her reach was enormous, and her down-to-earth personality meshed perfectly.
He had a full handful of shows at this point, running in multiple seasons with succession, and there were no signs of that stopping beforehand. Two weeks after expressing himself on Twitter, the King of Queens would go on to release his next album, White Bronco, without any real rollout. He was at the level now where the cookie-cutter promo circuit wasn't necessary. He wasn't a hitmaker, nor was he a radio-centric artist.
He was a chef at heart, rapping at his limits, releasing content whenever he pleased, knowing it'd put food on the table.
An earned privilege which he had achieved over many years.
White Bronco
Two weeks after letting his emotions out on Twitter, he dropped White Bronco, his most expressive work yet. Although the juices had always been there, he was letting them flow this time.
A strange yet magical mixture of sonics, it was his way of telling the world he was changing into a higher being. The cover art, painted by Bronsoliño himself, made that apparent.
This time it was different; Rocky was now featuring on Bronson's lead single, Swerve On 'Em, a track that would eventually turn out to be the crowd's favorite off the project.
It was getting close to damn near a decade since Bronson "interrupted" Rocky and ended up on his lead single. The duo was back again, representing New York to the fullest and going full braggadocio.
And I started crying, bitch, it's Johnny Handsome!
I dive off boats, jump out of planes ass naked,
Swervin' Maserati trucks in the rain,
Man, it's all about the hunger and pain;
And to this jungle, I came,
With these drugs all in my lungs and my veins
Classic Bronson was there, but he wasn't consistent on this project.
A quick look at the producer list on this indicated that Bronson was more comfortable with experimentation at this point in his career. He was no longer sticking to one or two guys to do a whole project.
Aside from a few standout tracks including the one with Rocky above, Picasso's Ear, and Brutal, there weren't any that stood the test of time as well as fans hoped. Understandably lackluster at points, it may have been a result of Bronson's status Vice, and stress piling on top of itself.
He was filming new episodes of FTD's fourth season with Alchemist, Meyhem, and Big Body, and he had to step back and relax.
It was about spreading his wings, without anyone telling him otherwise, and regaining outright creative control.
Lamb Over Rice: Bronson's New Beginning
There are few producers living who are considered in the same tier as The Alchemist when it comes to hip-hop. Although he remains humble and claims Madlib would wax him in a head-to-head, I wouldn't have any qualms putting them in the same bracket of the best alive.
You have to realize that the overlap between Bronson's rap music and food show went mostly one way, like a Chinese finger trap; many who stumbled upon the show were not aware he also made music. Along with that, many had no idea the gravity of Alchemist's influence on hip-hop in general. He was just seen as another posse member that tagged along.
It's not uncommon to come across dedicated hip-hop discussions which fail to remember the fact that Alch has twenty years in the game. Nonetheless, it was a true blessing that Bronson and Alch's cosmos aligned back during Rare Chandeliers, and it was time to participate in some alchemy and be blessed once again.
This time, the most on-point Bronson the world had ever been graced with.
If I put it out there, I feel better about myself. ... I'm not afraid of me; I know who I am. ... I feel good inside. I feel good about life, I feel good about everything.
It would also be the beginning of a new Action Bronson, one that would be focusing more heavily on becoming healthier, and finding inner-happiness. By 2019, he was all about being creative and enjoying the process, opposed to attempting to make a splash, and it was very evident in the quality of his output.
Lamb Over Rice would be released in November of 2019, donning a cover painted once again by the man himself, following months of working on a handful of other creative ventures and shows, including dabbling in creating physical food items at his favorite Queens' establishments, having a small role in the Martin Scorsese flick The Irishman, and welcoming his child into the world.
The album name itself was an homage to one of the chef's favorite dishes, and a staple of New York culture. Whether it was The Halal Guys' cart on 40th, or a local hole-in-the-wall joint, lamb over rice was a familiar feeling beyond food anyone and everyone could appreciate. There was no binary qualifier, no prerequisite, no threshold.
Critical acclaim towards the album would be received by hip-hop fans globally, and it would soon become his most well-received project to date, a year short of a decade after he dropped his debut mixtape.
The song Accoutrements was also a re-used verse from a Tim Westwood freestyle in 2012, unbeknownst to new listeners. Although it was way smoother over the Int'l Players Anthem beat, the album version fit the theme better.
Bronson's rapport with his friend Al was growing into not just a good duo but an iconic one. Although the legendary producer had worked with just about every big name in the game previously, never did he have this tier of chemistry with an artist, not even Slim Shady himself.
Richard Bryan of HHDX hit the nail on the head with his thoughts on the project:
There's a narrative that good or "real" rap music has to be a serious affair and outwardly fun-loving rappers lack lyrical ability.

Bronson and Alchemist seem to be gently trying to shake those notions, but at the same time, don't seem to care at all, as it sounds like two people who feel they have nothing to prove about their artistry.
Bryan was right; there was nothing to prove, and this is the important difference between Bronson's early work and now. He had proven himself, and this was now a different and better Bronson.
In a way, it was also nice to see Alchemist sit back too, even hopping on a track near the end to spit some bars.
This was larger than music; it was about establishing lifelong friendships while making moves along the way.
Health and Happiness
With a fresh album out, a newborn, and a laser-focused roadmap for 2020, Bam Bam would set his sights on dedicating a large part of 2020 to his own health and wellbeing, for the sake of himself, his significant other, and his family.
For the first half of 2020, he would remain somewhat quiet; he secured a radio show on Apple, and was curating and hosting that when possible.
Fuck, That's Delicious was in its fourth season with episodes rolling out accordingly, starting in May. He was cheffin' up new content for his other shows as well, and hints of a new album were in the air.
It was about time, but no word of any music being made actively were heard in the first quarter of 2020, amidst the virus outbreak. Then, he posted a video on Instagram in June that would make people realize how busy he had really been:
He was still the Bronson we all knew and loved, but he was in healthier form. It wasn't a secret that all his adult life, he was severely overweight. As funny as this may be to some, it was a serious health issue, and would result in a much shorter lifespan than someone who was healthy, pre-existing conditions notwithstanding.
In reality, he was rapping and eating all the time with little to no fitness, and that resulted in him reaching, as he says in the post, a whopping 363lbs. Luckily, he was able to lock in and change his lifestyle up, which resulted in shocking pictures of a slimmed-down 298lb Bronson.
The man credited with the transformation and his own personal trainer, Dave Paladino of Impact Zone, credits a strict diet and hardcore dedication to the healthier figure that Bronson now sports. He needed someone like Dave in his life, who was able to be straightforward and extend a hand out when he was in need of upping his health game.
Since the announcement on social media to slim down and become more healthy, Action Bronson has managed to lose over 105lbs, while he sits steadily around the 285lb mark.
With fitness in the bag, a new diet secured, deals being inked left and right for new ventures, he had one more announcement to make before 2020 headed into the last quarter.
He was making an album only for dolphins.
My Next Album's Only For Dolphins
A tongue-in-cheek level play of classic Bronson fashion, as soon as he revealed the album title to this, die-hard fans knew exactly where it came from. Contained within the second verse of the third on his 2018 project White Bronco, is a puzzle piece no one seemed to notice until the announcement:
Finesse at it's best (Yup), White Bronco, others known him as LeBronson

(It's me)

My next album's only for dolphins
This was a unique time for everyone, considering how the music industry was shifting and surviving during the virus outbreak. Luckily, we were able to see a freestyle from Bronson via Funkmaster Flex even during quarantine, leading up to the album's release, along with some appearances for magazines and radio.
What we've been taking in during the last few months has been a refined and elite Action Bronson. His entire appearance and aesthetic has changed, all while staying true to his roots. He appears to be happier, healthier, and by anyone's guess—wealthier—than ever before.
He has been able to sculpt his own passage within the hip-hop scene via his expertise in food and dedication to self. By proxy, he has been able to maneuver a lane for his own identity within the high-tier culinary arts realm via his achievements within the music industry.
Dependent on one another, his passions have amalgamated, resulting in a truly unique case study of how far dreams can take you.
Securing a sponsorship with Daily Harvest to eat healthier, confirming the return of his Vice shows, making cameos in more movies, and his long-term goal of obtaining a figure like Dorian Yates.
It was September 25th, and the album Only For Dolphins had blessed the earth with its presence. Not short of sports references in any regard, luckily.
Sonically, maybe his most experimental yet, sounding more psychedelic with less vocal weight than past projects. Be it Hard Target produced by Harry Fraud, exhibiting one of the most elegant beats on the whole project, Mongolia which Bronson produced himself, the Daringer-produced Shredder which contains the best dolphin samples on the album, or Sergio with the classic touch of Alchemist's secret sauce, Only For Dolphins contained carefully-curated masterpieces.
His delivery sounds refined and less hungry, but that isn't a knock. The flavors of beats on this project vary more than any other to date. With 7 producers, it was clear this was going to be a treat from the start.
A smaller, less-flashy release than he had done in the past, the rollout to the album consisted of various food releases. A line from Sergio describes what mindstate Bronson has been in lately:
Feelin' good's the only thing I know.
Surreal throughout with a pleasant balance between otherworldly and down-to-earth, this turned out to be one of Bronson's more solid projects yet. Although the album's conceptual makeup may be foreign to some on their first listen, it grows on you after a few spins.
An Adventure Awaits
For some, it was the exuberant execution of stringing together outlandish allusions using the most obscure vernacular they'd heard since the Supreme Clientele days. For others, it was his no-filler approach to everything he partakes in.
Whether you were a day-one or newcomer, you quickly realized there was an interesting dichotomy with Bronson: you knew what you were getting with him—the common thread he's able to weave throughout his work, as mentioned earlier—while simultaneously being in for a treat. No one could predict what was coming, whether it was a new approach to his tried and true aesthetic, or something completely left-field.
Whether it was the establishing of friendships on-screen throughout Fuck, That's Delicious and seeing the crew come more out of their shell as time went on, the genuine love and passion he had for anything remotely related to the city of New York, or his intense affection for food from any culture, there was always a very human element at the core.
Now 36-years-old, Ariyan Arslani had now been in the game for more than a decade. He had taken on the Action Bronson persona and achieved immense success. It was no longer just a persona, it was part of his being.
An expressive person, whether the conduit be food, music, or otherwise, Bronson continues to enchant the crowd with his quick wit, bit heart, and bright character. He says that it's what he lives for, and he's shown no signs of stopping.
Wherever his next venture may take him, there's one thing for certain: we'll know whatever we're doing will be an adventure, be it music, radio, a food show, or otherwise, as soon as we here two all-too-familiar words in a hearty Flushing, Queens, New York accent:
It's Me.